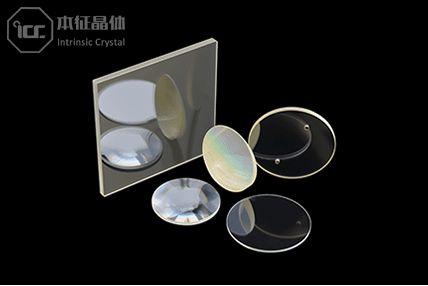 FTIR windows
product description
FTIR transmission windows – round,square,drilled, and customized
Transmission spectroscopy is one of the basic techniques for IR analysis. The sample and wavelength to be analysed determine the choice of window material, path length and window arrangement.
Applications :
ICC has strong processing capabilities for optical glass.
We have four manufacturing technologies: high-speed polishing, double-sided polishing, classical polishing, and ring polishing.
We can provide glass with a size of 1.2mm to 350mm and a thickness of 0.12mm to 60mm.
Synthetic crystals (such as ZnSe, ZnS, sapphire, KBr, CaF2, BaF2, MgF2, LiF, etc.).
These materials act as reflections ICC windows are suitable for laser protection windows, coated test pieces, infrared or ultraviolet source cap windows, PIR filter substrates, BBAR/DLC coatings for EO-IR imaging sensors, and wafers.
ICC production of various optical glass materials (such as BK7, B270, Pyrex, boron float, ultraviolet fused silica) and mirrors, filters, beam splitters, polarizers and IR filters can be coated on 193 In the range of nm to 16.0 μm.
The window shape can be round, square, drilled, stepped, or customized according to our CNC machine tools. Usually, we need CAD drawings to use custom shape windows.
Product Advantage :
ICC supply various kinds of IR transparent materials most often used by IR spectroscopists like KBR, znse, zns, silicon, baf2, caf2, lif, fused quartz,etc, and these optics can be round, square, drilled and customized shape based on the ICC CNC machines ability, and all the materials have MSDS, rohs, and Reach files.
ICC supply the competitive price and reliable quality standard size windows to reach your fast project lifetime based on the popular material as following.
Product Parameters :
Material

waveband (μm)

Refractive Index (at 2 µm)

Properties

Al2O3 (Sapphire)

50-1.65

Glass-like

BaF2

67-0.74

1.46

A hard, brittle crystal; insoluble in water; good resistance to fluorine and fluorides; no fog.

CaF2

77-1.11

1.42

A strong crystal; resists most acids and alkalis; withstands high pressure; insoluble in water; no fog.

Ge

5.5-0.6

4.00

A hard, brittle crystal; insoluble in water; well suited for ATR.

KBr

40-0.4

1.53

Very soft, water soluble crystal; low cost and good transmission range; fogs.

LiF

50-1.7

1.4

Best VUV transmitter available

MgF2

75-1.25

Si

83.3-0.66 0.3-0 (depends on doping)

3.40

A hard and brittle crystal; inert; ideal material for far-IR.

SiO2 (Quartz)

65-2.7

A hard crystal, clear in the visible

ZnS 
(Cleartran)

23.800-0.833

A water-free form of ZnS

ZnSe

200-0.454

2.40

A hard and brittle crystal; inert; ideal material for ATR.
For more products, Please visit: ICC-MALL
Looking forward to providing you with satisfactory
products and services.